2023 Chevrolet Camaro, The Chevrolet Camaro is a mid-size pony car produced by Chevrolet, first introduced for the 1967 model year, to rival the Ford Mustang. The sixth and current generation of the Camaro is shorter, narrower, and lower in height than its predecessor. In addition to having similar equipment and engine options, it is also over 91 kg lighter. The current generation of the Camaro received an update in 2020 to improve its performance and overall design.
Exterior:
The redesigned 2019 Chevrolet Camaro not only boasts striking aesthetics, but also features that enhance its performance. For example, the grille details, hood, and fascia vents are engineered to optimize airflow, either to cool critical components or reduce drag and lift. The Camaro design team prioritizes both beauty and performance, ensuring that every element serves a functional purpose in addition to looking great.
Interior of 2023 Chevrolet Camaro :
The Camaro has received substantial improvements in its interior design compared to the previous generation, with better materials and a more contemporary appearance. The front seats are comfortable and the layout is clear, making it easy to use. The ambient interior lighting, which is customizable, adds a cool and stylish touch to the vehicle's appearance. However, the Camaro's back seat is extremely small and the limited visibility hampers its practicality as a family car.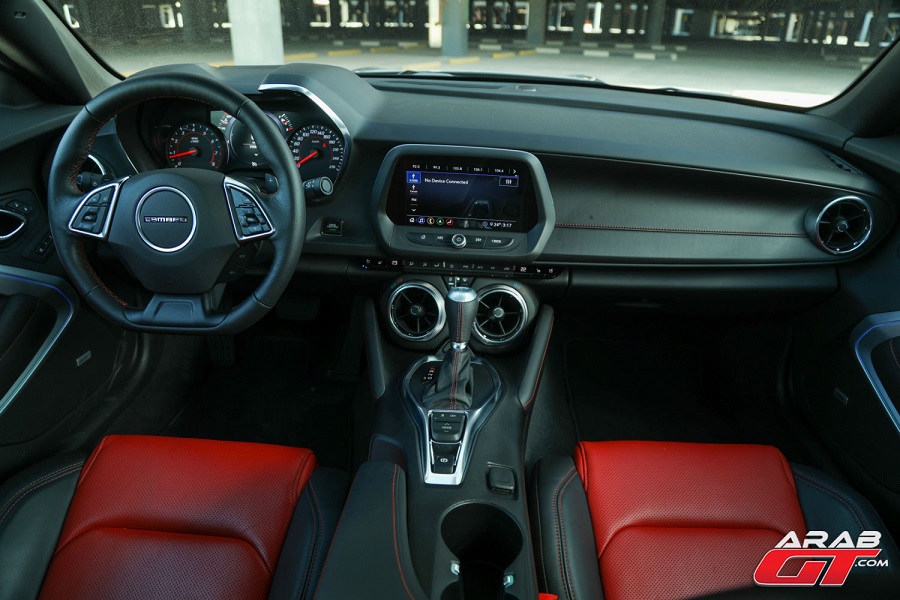 Despite these shortcomings, the Camaro's superior performance and driving experience make it a worthy choice for enthusiasts who prioritize driving dynamics over practicality.
Mechanical Specification:
Camaro is available with a variety of engines
The first one is a 2.0 liter LTG Ecotec turbocharged straight-four, which generates 275 hp and 400 N⋅m of torque. It is the first four-cylinder engine used in a Camaro since the 3rd generation model, and is available on 1LS, 1LT and 2LT trims.
 The second option is a 3.6 liter LGX V6 engine, producing 335 hp and 385 N⋅m) of torque.
The third option is a 6.2 liter LT1 V8 engine, which is also found in the Corvette C7, delivering 455 hp and 617 N⋅m of torque.

2023 Chevrolet Camaro Price:
Prices of the American uscle car starts from $26,000 for the basic trim level and the price can go up to over $43,000
Watch The SS model Test Drive with ArabGT