2023 Nissan 400Z ; The Nissan Z, also referred to as the Nissan Fairlady Z in Japan, represents the seventh generation of Nissan's line of Z-car sports cars. Released in August 2021, this model succeeds the 370Z, although it is constructed on a revised and modified version of the previous generation's platform. While this model deviates from the numerical naming convention of previous generations, fans still refer to it as the 400Z.
Exterior:
The 2023 Z adopts a classic rear-wheel-drive sports car layout, characterized by a lengthy hood, lowered rear stance, and a silhouette that pays homage to the first-generation Z. To streamline the design, the latest technologies were utilized, and LED lighting was incorporated to add depth without unnecessary elements. The LED headlights, inspired by the Japan market-only 240ZG of the 1970s, feature two half-circles that blend harmoniously with the new Z's identity.
The connection to the original Z is most evident from a side view, where the roofline flows seamlessly from the nose to the squared-off rear, creating a unique first-generation Z profile. This profile was achieved by making the rear edge slightly lower than the front fender height, giving the Z its distinctive posture.
Interior of 2023 Nissan 400Z
The 2023 Z's cabin is meticulously crafted to fit the driver and passenger comfortably while combining modern technology with classic Z-style elements. The center stack design draws inspiration from earlier generations. On the instrument panel, there are three analog pod gauges, a climate control switch near the shifter, and an 8.0-inch touchscreen audio display positioned in the center.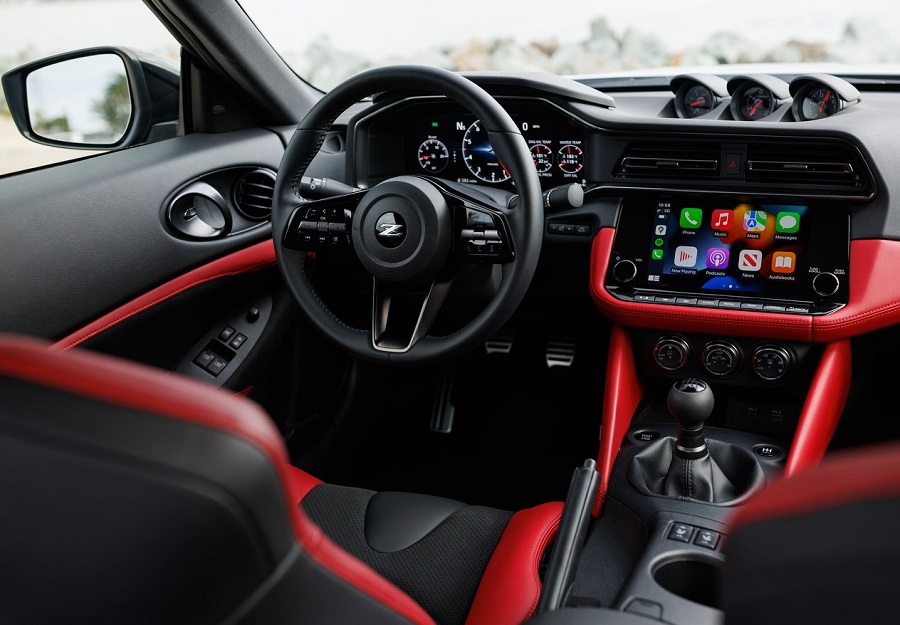 Mechanical Specifications:
The 3.0-liter V6 twin-turbo engine of the 2023 Nissan Z provides a substantial increase in power output compared to the previous 370Z model. The engine has a 400 horsepower and generates 350 lb-ft of torque. With a boost of 68 horsepower and a 30 percent hike in torque, the engine aims to deliver a quick and seamless response to the driver's commands. The car can accelerate from zero to 100 km/s in 5.0s and can reach a top speed of 250 km/h.
2023 Nissan 400Z Price
Prices of Nissan Z starts from $40,000 and can go up to $53,000