2023 Mazda 6 ; The third generation Mazda6 sedan has been refreshed with a more sophisticated and refined exterior design, making it a facelift model. The updates also include extensive interior revisions, such as new front and rear seating, premium quality trim and finish detailing throughout. Additionally, for those models equipped with the MZD Connect multimedia system, the Apple Car Play and Android Auto are now available.
Exterior:
The Mazda 6 has been updated with sleek and wider headlamps, featuring LED turn signals that form a line along the upper edge of each unit. The lighting signature design not only penetrates the projector, but also edges the lower half of the headlamp housing, enhancing the vehicle's appearance when illuminated. This lighting configuration produces a bold expression through its sharp form and luminous lines, while also emphasizing the Mazda 6's low center of gravity by illuminating the lower section of the headlamp unit.
Interior of 2023 Mazda 6
The latest Mazda model boasts an exceptional level of comfort and satisfaction by ensuring that all components surrounding cabin occupants, such as the door trim, floor console, center armrest, and middle pad on the instrument panel, are virtually identical in texture to the touch. In addition, the interior's indirect lighting has been fine-tuned to optimize the hue and brightness. New courtesy lamps fitted on the front and rear doors now feature white puddle lamps located at foot level, as well as rear-facing red warning lamps.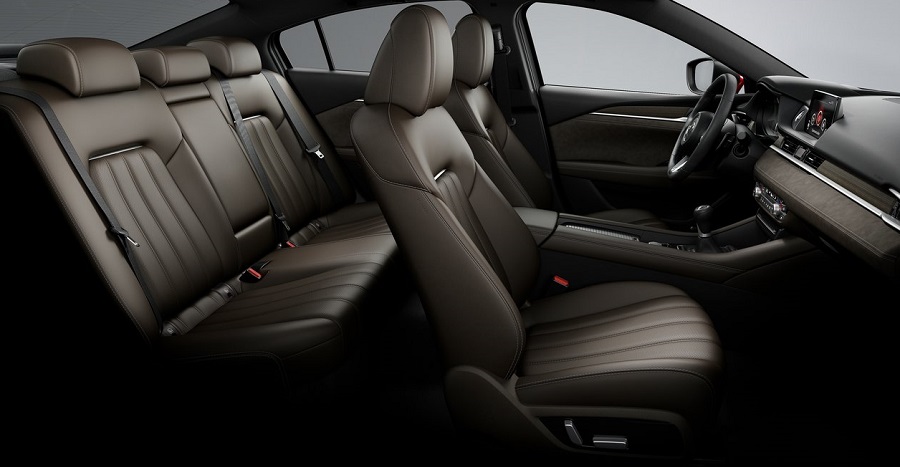 The premium interior package, Mazda's highest quality offering, introduces the use of genuine Sen wood and other premium materials, resulting in a new level of refinement and sophistication for the flagship model's interior. The exquisite beauty and tactile quality of this package reflect a sense of maturity and elegance.
Mechanical Specifications:
The car is equipped with a 2.5L I4 engine that generates 182hp and 250 Nm of torque. In some markets the car is also available with a turbocharged 2.5 L I4 that generates 227hp and 420Nm.
Both engines are connected to a 6-speed automatic transmission that sends the engine power to the front wheels and the car can accelerate from zero to 100 km/h in 6.6s and reach a top speed of 250 km/h in the most powerful engine .
2023 Mazda 6 Price
Prices of this Japanese car starts from $35,240 for the basic trim level and can go up to $54,935 for the top of the range trim level.
Also Watch : Test Drive of a Modified Model Of The Japanese Sedan